Now that you've decided to join America's Navy, we're here to help you prepare for your journey ahead. Download any of our brochures to learn about exciting career opportunities, training and benefits.
Can't view these files? Download Adobe Acrobat Reader
ENLISTED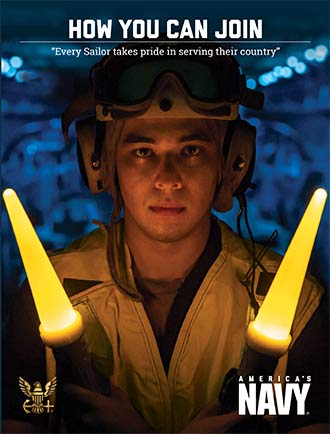 How You Can Join
From document and fitness requirements to what you can expect at MEPS—download this brochure to get all the basics on the process of joining the Navy.
Navy Features & Bonuses
Find out what benefits are offered to Sailors in a variety of career fields—from submarine electronics to nuclear propulsion and special warfare.
OFFICER
Officer Programs
Navy Officers aren't limited to the confines of a desk. Start your career as a leader at sea, in the air or on land. Find out more about what it takes to be an Officer.
EDUCATIONAL
Collegiate Programs
From nuclear science to healthcare to civil engineering, learn about the competitive collegiate scholarships and programs offered through a career in the Navy.
Navy Health Professions Scholarship Program (HPSP)
Emerge from medical school debt-free. With the Navy Health Professions Scholarship Program (HPSP), you may receive full tuition coverage, up to a $2,300 monthly stipend and up to a $20,000 signing bonus.
NROTC
Want to earn while you learn? Find out about our Navy Reserve Officer Training Program scholarships where you can get up to $200,000 in tuition and financial benefits for your college education.
NROTC MSISR
Find out how the Minority Serving Institution Scholarship Reservation offers students the chance to earn their degrees while enjoying the exciting and valuable benefits of serving their country.
RESERVE PROGRAMS
NAT | New Accession Training
Serve your country while staying true to yourself. Learn how you can join as a new Sailor in the Navy Reserve.
Navy Reserve
You've already invested in your military success. Now, find out what it means to serve part-time as a Navy Reserve Sailor.
Prior Service Enlisted Reserve Opportunities
Stay connected to the things you loved about the Navy, while forging ahead in your civilian life. Learn more about serving a second time as a Reserve Sailor.