About the U.S. Naval Academy
The Unites States Naval Academy (USNA, or "the Academy" for short) is the undergraduate college of our country's naval service. Located in Annapolis, MD, it prepares young men and women to become professional Officers of competence, character and compassion in the U.S. Navy and Marine Corps.
Naval Academy students are midshipmen on Active Duty in the U.S. Navy. They attend the Academy for four years, graduating with Bachelor of Science degrees and commissions as Ensigns in the Navy or Second Lieutenants in the Marine Corps. Naval Academy graduates serve at least five years in the Navy or Marine Corps.
#1 Top Public School
#6 Highest-Earning Graduates
#5 Best Undergrad Engineering Program
#2 Freshman Retention Rate
89% Graduation Rate
8:1 Student-Faculty Ratio
26 Majors
33 Varsity Sports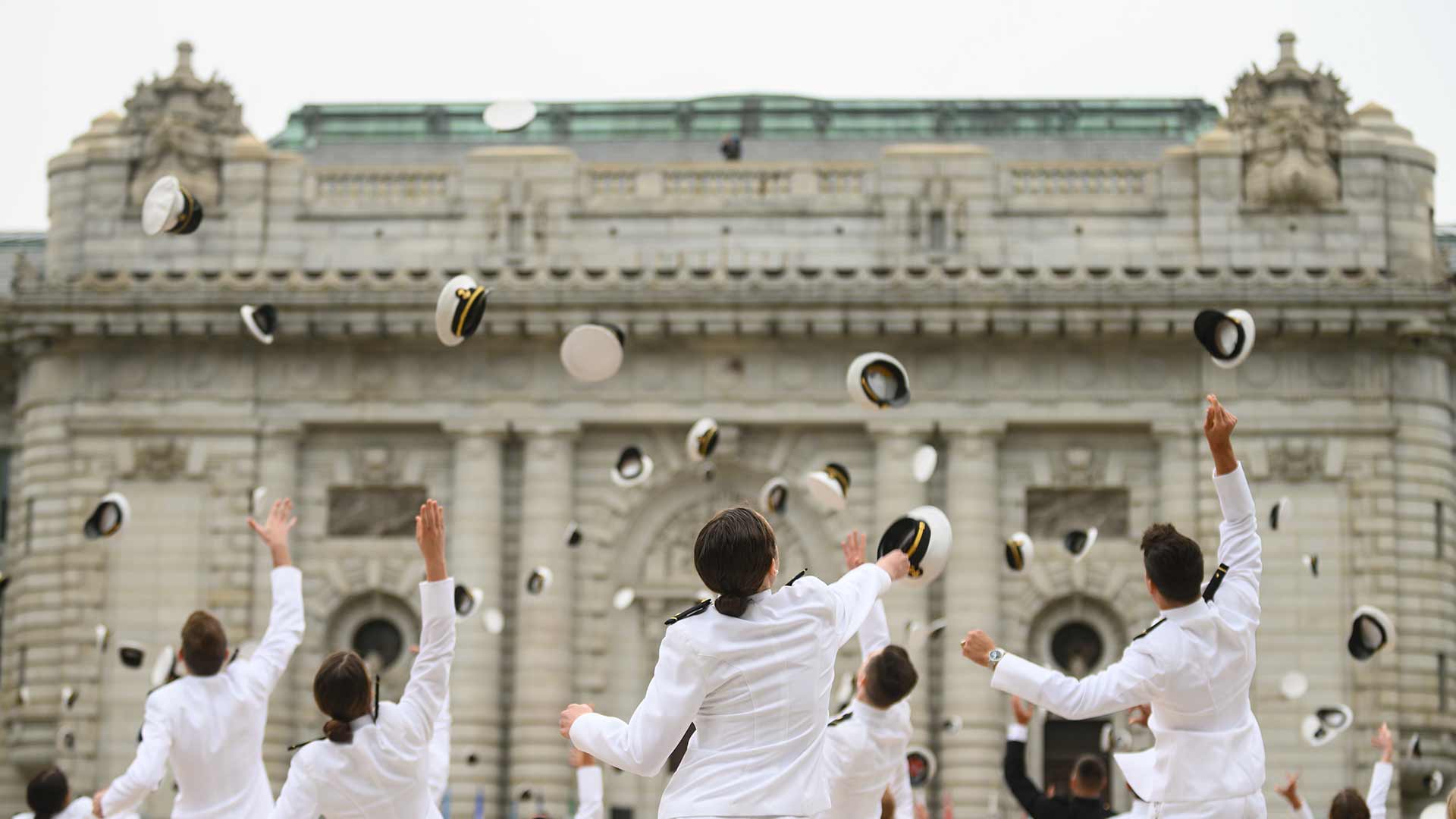 More Information
Tuition & Financial Aid
All students who attend the Naval Academy do so on a full scholarship. The Navy pays 100% of the tuition, room and board, medical and dental care costs of Naval Academy midshipmen. In addition, all midshipmen receive:
$1,087.80 per month, which covers the cost of laundry, activity fees, barbers, cobblers, yearbook and other services
100% post-graduation employment
Additional Benefits
Small class size. Most classes have no more than 22 students. Some upper-class courses may have only five to 10 other students.
Protected study time. Evening study period is reserved from 8-11 p.m. Sunday-Friday to help all midshipmen keep up with their courses. Campus study facilities are also open all day and evening, seven days a week.
Academic advising. Group and individual counseling, as well as an academic adviser, are available early in plebe year to help plan curriculum. A permanent faculty adviser is assigned once a midshipman selects his or her major.
Leadership and counseling. Each midshipman has a company officer, senior enlisted advisor, upper-class midshipmen in leadership positions, the Academy's staff of Chaplains and professional counselors—all to provide assistance when needed and guide their progress in academics, military performance and conduct.
A sponsor program. Hundreds of families in the Annapolis area sponsor newly arrived midshipmen, offering a home away from home and a place to relax off campus. Every midshipman has the opportunity to be sponsored by a local family. These contacts often grow into deep friendships that last a lifetime.