ABOUT
Navy Leap Frogs don't make their daily commute in the driver's seat. Their day starts by jumping out of the back of an airplane at 12,000 feet. Since 1969, the Navy's official skydiving and parachute team has performed gravity-defying demonstrations across the country in a show of the Navy's exceptional skill.
Every member of the team has joined this performance group after years of real-world special operations work. Comprised of active-duty Navy SEALs, Special Warfare Combat Crewmen (SWCC), Divers (ND), Explosive Ordnance Disposal Technicians (EOD) and Aircrew Survival Equipmentmen (PR), the Leap Frogs demonstrate best-in-class training offered by Navy Special Warfare.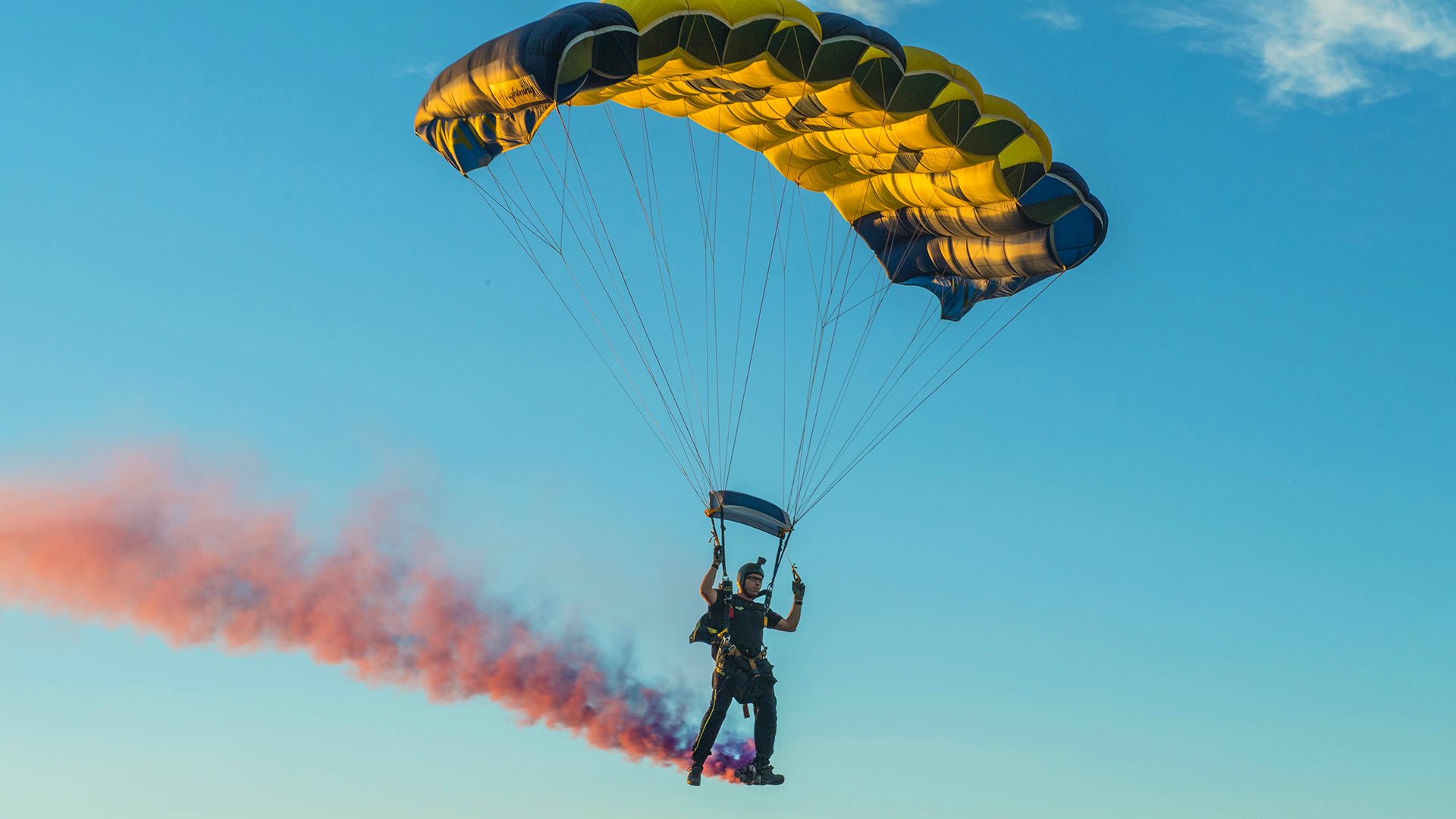 For the Leap Frogs, every day is an adventure. These Sailors live to serve their country as warriors and are trained to think fast in situations where there's zero room for error. That's what makes them a perfect parachute team.
During their Leap Frog tour, team members will travel across the country performing daring stunts from over two miles above the ground. Leap Frogs serve for three years on the team before returning to their operational units.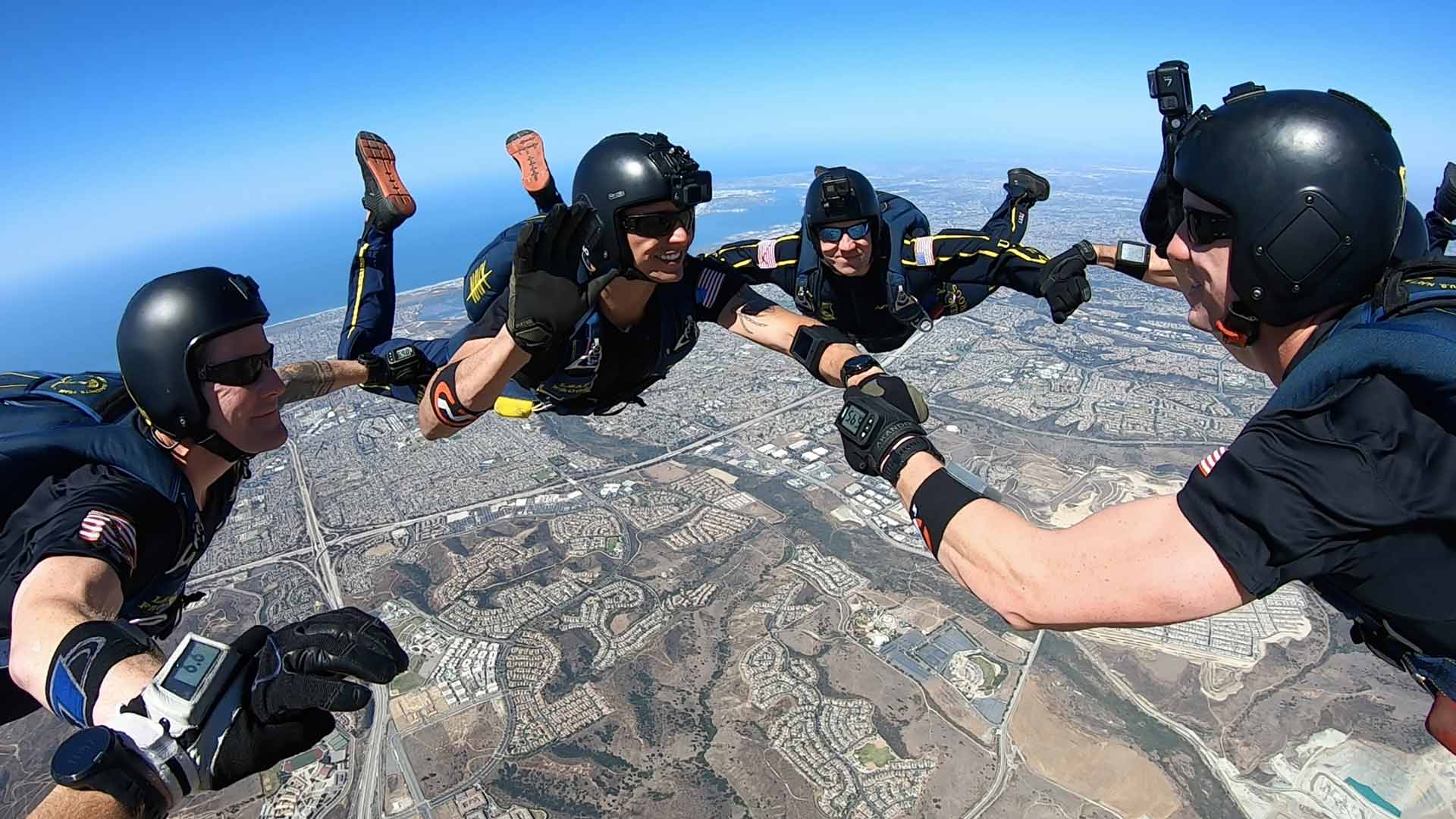 More Information
How Do I Become a Navy Leap Frog?
If you're interested in becoming a Leap Frog, start your journey by pursuing a career path as an Aircrew Survival Equipmentman (PR), Navy SEAL, Special Warfare Combat Crewman (SWCC), Diver (ND) or Explosive Ordnance Disposal Technician (EOD). These ratings all qualify for Leap Frog volunteer opportunities. Connect with a recruiter to learn more.
What Type of Person Makes a Good Leap Frog?
Can you keep a cool head in the face of a challenge? That's a start. For Navy Special Warfare personnel, the ability to stay focused is what keeps the mission moving forward. The same is true when you're a Leap Frog pulling off a complicated stunt thousands of feet in the air. If you're the type of person who lives for adventure, you'll fit right in.
Physical strength is also a must. These Sailors always have to be in peak physical fitness for tough missions. As a Leap Frog, you need to be able to lift heavy gear and maneuver yourself against the resistance of the wind at speeds up to 180 mph. Looking to set fitness goals for yourself? Try working up to SEAL/SWCC physical training standards:
Swim 500 yards in under 12:30
Do 50 push-ups in under 2:00
Do 50 curl-ups in under 2:00
Do 10 pull-ups in under 2:00
Run 1.5 miles in under 10:30
NOTE: You should consult your physician or other health-care professional before starting any exercise regime or other fitness program to determine if it is right for your needs. This is particularly true if you (or your family) have a history of medical illnesses or ailments that could be made worse by a change in physical activity. Do not start a fitness program if your physician or health-care provider advises against it.
What is the History of the Navy Leap Frogs?
The Navy's parachute team dates back to 1969, when Underwater Demolition Team members volunteered to perform at air shows. In 1974, the team was officially given its name by the Chief of Naval Operations, who tasked them with demonstrating the Navy's excellence throughout the United States. Today, the West Coast-based team of 15 keeps the mission alive by touring nationwide and dazzling audiences with aerial demonstrations.
Where Can I See the Navy Leap Frogs Perform?