Myah's Bio
Perfume wafted through the air. Aromatic spices in shades of turmeric, paprika and saffron sat in barrels, grains blowing through a crowded marketplace in a sandstorm of color. Myah Riggans walked from booth to booth in the bustling Bahraini Souk, exploring everything from brightly lit Moroccan lanterns to fine, gold jewelry. As the "Adhan" from the Grand Mosque echoed out across the marketplace, Myah looked up and listened.
Growing up in Cheyenne, WY, she never imagined her career would take her halfway around the globe.
Cheyenne is a small town. Myah grew up loving the rodeo, hunting after school and sticking close with her family. But part-Hispanic, part-Caucasian and raised by a Lakota Native American stepfather, her worldview was shaped by a unique mix of cultures that stretched far beyond Cheyenne's borders. She always knew she had a knack for languages—so when a Navy recruiter offered her the chance to take a DLAB (Defense Language Aptitude Battery) Test, she was more than ready.
The DLAB is the test used to determine one's skill-level at acquiring new languages. It's one of the military's most difficult acumen tests—not simply testing language comprehension but also the ability to translate based on patterns within speech. Myah passed with flying colors, earning herself the opportunity to become a Navy linguist, otherwise known as a Cryptologic Technician – Interpretive.
After boot camp, Myah went to CTI "A" School, or the Defense Language Institute in Monterey, CA where she was selected for the Farsi track. At school, she learned how she would not simply be a translator, but a supplier of cultural information to the Navy's direct assets in regions around the globe. She'd always been fascinated by Middle Eastern culture and languages and found this was a chance to hone her skills in both.
After spending a few years stationed at bases around the United States, she was deployed to Naval Support Activity Bahrain—an American base on a tiny island situated between Saudi Arabia and Iran in the Arabian Gulf. Here, she would use her skills in Farsi to provide direct linguistics support to ships, aircraft and partner three-letter agencies operating in the area.
Myah brought her husband and their pets from the States to live with her Manama, Bahrain in a home situated right on the coast. On weekends, they have the chance to explore the unique culture only found in this part of the world. They shop at the Souk, visit the Grand Mosque, ride camels in the desert and tour the famous Bahrain National Museum which houses historic finds from digs throughout the centuries. Oftentimes, Myah looks across the water at her view, wondering if it would have been this spectacular if she'd stayed in Cheyenne.
Myah is finishing up her college degree in Anthropology through the Navy. She's purchased her first home in the Navy. She got married and found her family in the Navy. She refined her love of languages in the Navy.
So, when she heard the call to prayer echo across the marketplace, she stopped to remember all the moments in her life that led her here. It wasn't luck that brought her to Bahrain, it was trust in herself—proof that going after a dream outside Cheyenne wasn't as farfetched as she once believed.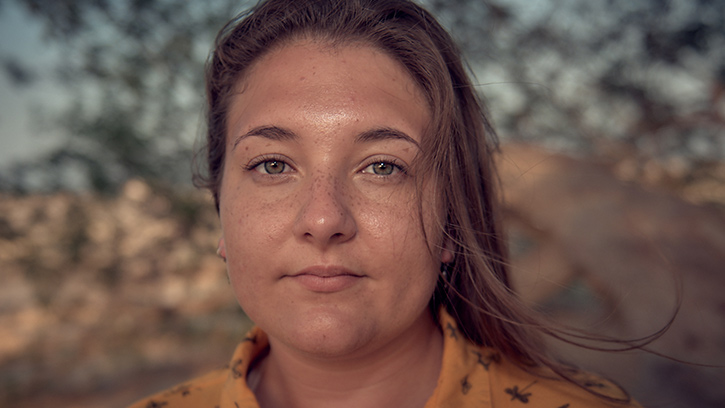 Life in Bahrain
Strategically situated in the center of the Arabian Gulf, the Kingdom of Bahrain is a historic treasure of the Middle East. From elaborate dining to sky-high buildings to luxury shopping, Sailors living in Bahrain can explore all the culture has to offer. Visit the Tree of Life—an ancient tree surrounded by sand dunes, shop for gold and perfume in the famous Manama Souk or discover the history of the island at the Bahrain National Museum. Watch as Myah Riggans takes us on a tour of her home in the Kingdom of Bahrain.
Cryptologic Technician – Interpretive
Some people spend their entire lives in the same corner of the world. As a Cryptologic Technician – Interpretive, you are not one of them. You're more than a linguist—you're a cultural expert, able to translate and interpret foreign communications. Defense Language School will fully immerse you into the language for your choice—from Mandarin, to Spanish, to Arabic to Russian. After, you'll travel the world collecting intelligence in support of the Navy. CTI's know ignorance is dangerous. Your job is to ensure we are always in the know. Find out more about life as a CTI.